Camp Pro 3 WiFi Universal Easy-to-Use Dual Band WiFi Range Extender Kit for Your Motorhome and Boat



Outdoor unit with WiFi5 (802.11ac) support (Tube-UAC2)
Support for dual-band Wi-Fi access points (2.4 and 5 GHz)
Omnidirectional High Gain Antenna for Tube-UAC2
Indoor unit compatible with WiFi4 (802.11n) (R36AH)
Wall plug and car power adapters in package
Up to 8m distance between units (USB cable)
Intuitive device configuration based on QR code

WiFi CampPro 3 is our enhanced system designed to restore and expand Internet access in a motorhome or yacht from remote WiFi access points.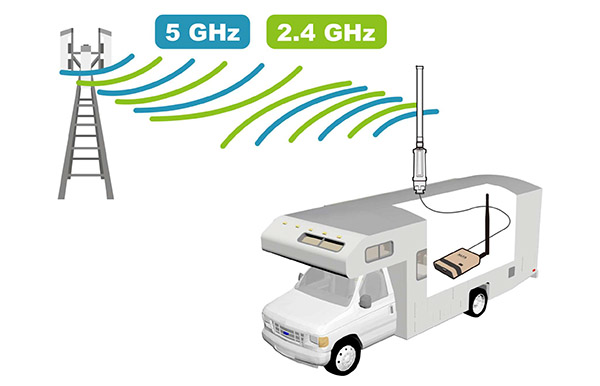 Thanks to the improved version of the outdoor unit (Tube-UAC2), the CampPro 3 WiFi can now connect to dual band WiFi5 access points (2.4 or 5 GHz, a / b / g / n /. Ac standards) .

With detailed printed instructions, easy-to-use QR code based setup, this kit can be quickly set up even by inexperienced users.

If you need to boost a 2.4 or 5 GHz WiFi signal to multiple devices at the same time in your motorhome or boat, the CampPro 3 WiFi is the perfect choice!

R36AH (indoor unit)
Qualcomm ™ QCA9531 chipset
RAM, 128MB DDR2 flash, 16MB SPI NOR flash
WiFi Standards IEEE 802.11 b / g / n (2.4 GHz)
Speed ​​300 Mbps
USB 1 × USB 2.0 Type A
Ethernet 2 × Fast Ethernet with ESD protection
Button, LED 2 × pushbutton, 6 × LED

Tube-UAC2 (outdoor unit)
MediaTek ™ MT7610U chipset
WiFi standards IEEE 802.11 a / b / g / n / ac (2.4 and 5 GHz)
Data rate 433 Mbps
USB 2.0 interface
N-type antenna connector (female)
AOA-2458-79AM (antenna for outdoor unit)
Frequency range 2400 ~ 2500 MHz
5150 ~ 5875 MHz
7 dBi gain (2.4 GHz)
9 dBi (5 GHz)
Linear, vertical polarization
N-type antenna connector (male)



Indoor unit (R36AH) with external antenna
Outdoor unit (Tube-UAC2)
Antenna for outdoor unit (AOA-2458-79AM)
USB 2.0 cable (length 5 m)
Wall plug adapters and cigarette lighter
Mounting accessories
RJ45 Ethernet patch cable
Printed installation guide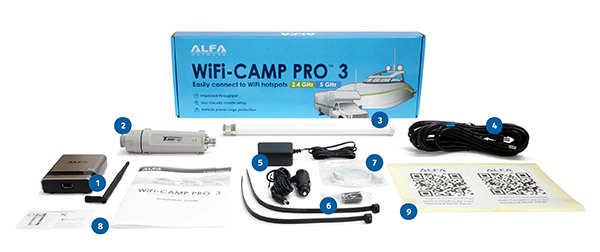 Top 4 Benefits of Siliceo Online Shopping:
We accept orders by the following methods:
Online (secure): browse our range and add products to your basket.
Offline: please see the contact us page for telephone, fax, and email details (you can change your country by clicking on the link at the top of the page). Shipping prices vary across our product range and can be viewed for each product on the product datasheet by choosing the country you are in.

Express international delivery & worldwide shipping.
All in-stock orders received Monday through Fridays are shipped the same day. For customers in Europe, the deadline for same day dispatch is 16:00pm. Orders received after these deadlines are shipped the next business day. You can check availability by viewing the datasheet which will display a yellow check mark if the product is in stock availability check mark.

Return and Replacement Policy

Quality is important to Siliceo online Therefore if a product does not perform as described on the datasheet please notify us within 24 months of delivery using the contact form and our dedicated team of scientific experts will examine details of your protocol to determine whether the problem is protocol related or product related.
Available Payment Methods



All payment details are described on the invoice that you will receive after your order is dispatched. The invoice will be sent to the billing address you specify and this can be different to the delivery address for the products.

We accept PayPal, credit card, cash on delivery, bank and wire transfer as methods of payment, for further details please contact us.

Alternatively you can choose to use Facebook Login, Google +, or PayPal login